High-pressure Water Scours the Pipe Without Damage
Hydro jetting is a sewer-cleaning process that utilizes a low volume of water (up to 18 gallons per minute) under high pressure (up to 4000 PSI). This special system is designed to literally scour the walls of pipes.
Jetting works on various types and sizes of pipe, including storm and sewer drain systems. Unlike mechanical rodding (cable, snake) which just cuts a hole in the blockage, hydro jetting removes the blockage from the inner wall of the pipe, returning it back to its original diameter.


This concept of high-pressure cleaning is a proven solution for removing up to 100% of the grease, roots, and debris built up in the sewer lines. Hydro jetting cleans your sewer lines like no other process can.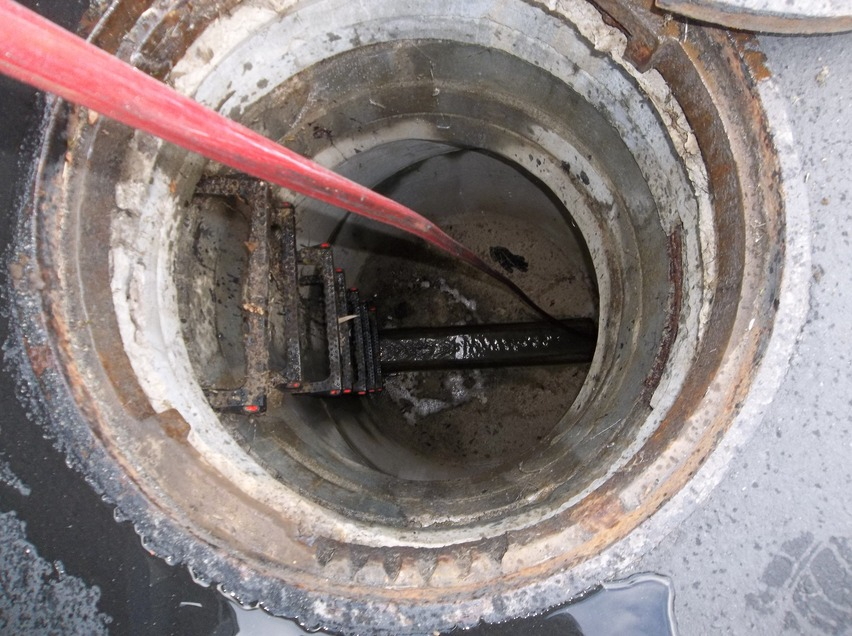 Ever see hydrojetting up close? Here we jet out some debris from a clear tube ... with a few surprises!
Video transcript

This video has no dialogue, but this is what the footage shows.


A clear plastic pipe is shown which has been packed full of dirt, roots, grass, and other debris to simulate a clogged sewer pipe. It is mounted horizontally between two sawhorses since most sewer pipes will be in this position. A hose with a hydro jetting nozzle is introduced into one end of the pipe and turned on.


(Sound of jetting nozzle spraying water inside the pipe.)



Water begins to spray backward, propelling the nozzle into the clogged pipe. We see water begin to clear some of the clogs, and the nozzle is now halfway through the pipe at 27 seconds actual elapsed time. We switch to a split screen so we can see a close up of the nozzle clearing the clogs, and a wide view of where the nozzle is within this six-foot section of pipe. A banner shows "American Jetting Service, Inc. Commercial and Industrial Sewer Cleaning."

The nozzle continues to move through the pipe, and the area it has already passed through is mostly clear. The technician moves the nozzle backward a bit to skillfully work through the tougher clogs. By the 1-minute mark, the nozzle has penetrated to the far end of the pipe, and the clogs are really being destroyed.

Again, the technician backs the nozzle out a bit to clear out the toughest clogs, and we hear rocks from the soil hitting the pipe as the nozzle sprays with great force. By 1 minute 30 seconds, the nozzle has cleared a path to the end of the pipe, and almost all the dirt and debris has been flushed out. The technician does a final back-and-forth movement, and the pipe is clear!